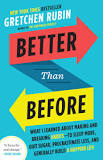 A Book Recommendation for You
Kitty Boitnott, Ph.D., NBCT, RScP
Career Transition and Job Search Coach | Life Strategies and Stress Management Coach
Last week, I wrote about priorities and how important they are in our lives. After all, if we don't set priorities, we can find ourselves behaving in ways that cause us to feel scattered and ungrounded. Having priorities and being clear about what they are and in what order we have them can help us feel that we have more control in our lives.
Today, I would like to offer a book for your consideration. This book is by New York Times bestseller, Gretchen Rubin, the author of The Happiness Project. But the book I want to recommend to you is not that book (although it is good, too) but her second book, Better Than Before: What I Learned about Making and Breaking Habits--to Sleep More, Quit Sugar, Procrastinate Less, and Generally Build a Happier Life.
In this insightful and easy-to-read guide to the tendencies we have and our inclinations with regard to habits and behavior, Gretchen offers the following:
"The Habits Manifesto"
by Gretchen Rubin
From Better Than Before (p. xii)
What we do every day matters more than what we do once in a while.
Make it easy to do right and hard to go wrong.
Focus on actions, not outcomes.
Things often get harder before they get easier.
When we give more to ourselves, we can ask more from ourselves.
We're not very different from other people, but those differences are very important.
It's easier to change our surroundings than ourselves.
We can't make people change, but when we change, others may change.
We should make sure the things we do to feel better don't make us feel worse.
We manage what we monitor.
Once we're ready to begin, begin now.
What I know from my own experience is that the key to a happier, healthier life lies in what we do every day on a consistent basis, not on what we do every now and again or sporadically.
This is especially true when it comes to healthy habits. For them to have a truly beneficial effect, you have to practice healthy habits on a consistent basis, day after day, week after week, month after month.
We live in a time, however, when we expect instant gratification, and when we don't see instant results from our efforts, we decide that it doesn't work or it isn't worth the perceived sacrifice or effort we are making.
One of my favorite lines from Gretchen's book is this: "For good and bad, habits are the invisible architecture of daily life." (p. 7)
Think about that for a moment. Whether we practice good habits or not, we see the results ultimately in our lives as we age and progress through life. The time to decide to live a healthy life and to make it a habit is now...not tomorrow and not next week. If you wait until you are sick to decide to practice healthy habits, you have waited too long, yet how often do we hear of people who have major health scares that frightened them into making lifestyle changes in their diets or exercise routines.
Another interesting aspect of this book that you may find useful is the four tendencies that Gretchen believes most people exhibit when it comes to habit formation. There is the (1) Upholder; (2) the Obliger; (3) the Rebel; (4) and the Questioner.
Depending on your particular tendency, forming habits may be more or less difficult. You'll want to read the book yourself to see which tendency you gravitate toward. For myself, I tend to be an "Upholder," but I recognized the rest of my family as having other tendencies. My sister, for example, is an "Obliger," my brother is a "Rebel," while my dad was a "Questioner." (My mom, like myself, tended to be more of an "Upholder.")
All of this just means that we have individualized approaches to the expectations we set for ourselves as well as the expectations that others set out for us and how we manage and meet those expectations.
If you are in search of a good self-help book that is easy to read and engaging to boot, I recommend this one for you. It may help you decide once and for all to adopt a habit that will change the ultimate trajectory of your life whether it pertains to your health, your productivity, or your relationships. Our habits impact all three of those areas, and for that reason, we need to pay attention to them, don't you think?
Until next time.