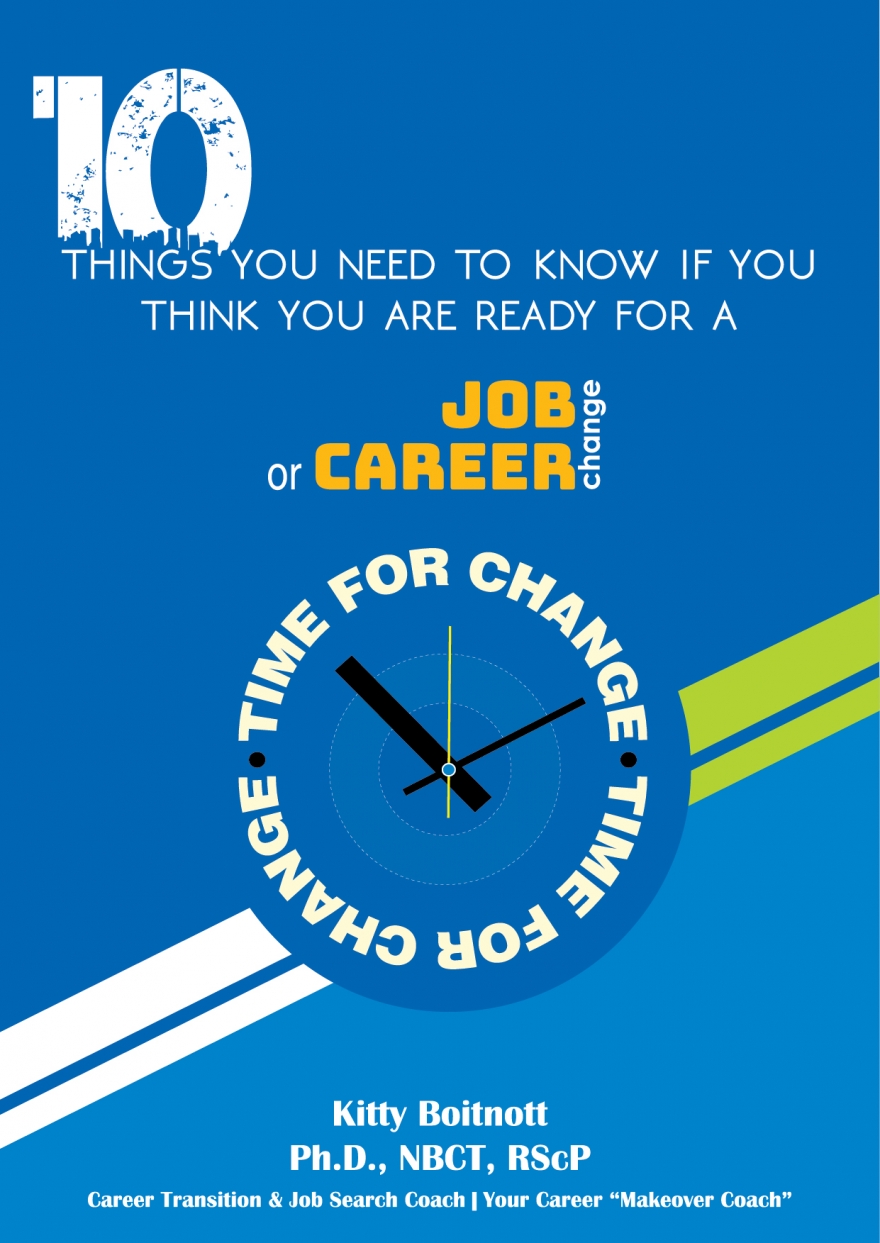 10 Things You Need to Know if You Think You Are Ready for a Job or Career Change
Kitty Boitnott, Ph.D., NBCT, RScP
Career Transition and Job Search Coach
I am excited about the fact that I am working on a new job search guide which is the outgrowth of a free giveaway item that I have been offering for the past year or so. I have expanded the guide, 10 Things You Need to Know if You Think You Are Ready for a Job or Career Change. (It is possible that it is through that guide that you found me in the first place!)
For the past several months, I have been working on expanding this 3-page guide into a 94-page blueprint, outlining the 10 considerations every job seeker or career changer should know before undertaking a job search or career change. In addition to offering additional information and illustrations, however, I am also offering for the first time ever, a curated collection of articles that I wrote that have been published in Careerealism.com (which is now WorkitDaily.com) over the course of the last three years.
Those articles are grouped by topic. For example, Section 1 deals with the question of is it time to stay or go in a job that no longer feels right or a career that no longer lights you up. Section 2 is about job search strategies that every savvy job hunter should employ. Section 3 is all about LinkedIn and how to make the best of your profile so that you can be scouted by a recruiter who is looking for someone with your skills and experience. Section 4 deals with how to establish a personal and professional brand...how to behave at networking events, ways to make your cover letter shine, and finally, Section 5 is about resumes and interviewing...key tools and skills that everyone needs to hone if they are going to have to develop if they are going to be successful in their search.
I am offering 23 articles in all, all in one place and all grouped by topic.
Stay tuned. I will let you know when this guide is ready to go, but I am getting so close, and I am so excited, I just had to share.
This is an item that you may use yourself or you may want to give as a gift to someone who is looking for work. This guide is grounded in my past three years of experience as a Career Transition and Job Search Coach, working with dozens of teachers and other mid-career professionals who have successfully transitioned from work that was making them ill to work that feels like something they were meant to be doing.
The price of this guide will be $10, and as a bonus for those who purchase it, I have reduced the price of my video resume review from the regular recently upgraded price of $50 to $27. (If you were to buy the video review as a stand-alone item, it would still be $50.)
With the purchase of this guide, you will have a chance to send me your resume, and I will review it and send you a 20-minute video review with suggestions on how you might punch it up to the next level...for $27.
This is a real bargain. I hope you will take full advantage of it when the time comes. My launch date for the new guide is Friday, September 23rd.
If I get it ready earlier, I will let you know so you can get your first crack at it.
Until next time.