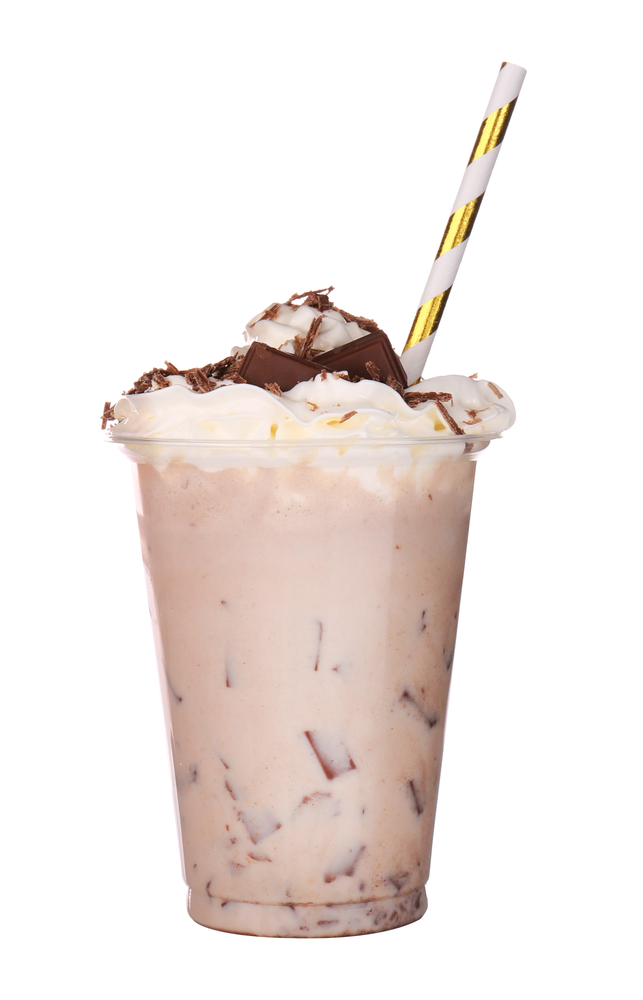 My $66 Milkshake
Kitty Boitnott, Ph.D., NBCT, RScP
Career Transition & Job Search Coach
If you read my post from last week, you know that I was preparing to leave for Newport Beach, California for a 3-day conference where I was going to be meeting many coaches, consultants and professional speakers seeking to take their marketing skills to a new level. I flew out early on Tuesday morning and got back late Saturday night.
I did learn a LOT, and in the next few weeks, I will be sharing some of that learning I am sure, but what comes to mind today to share is my $66 milkshake.
I know. You must be thinking there must be a catch, but the truth is, by the time I got to and from this milkshake, it did, in fact, cost me just about $66.
So, how did that happen?
I'll be honest. When I scheduled this conference in June, I was thinking of Newport Beach as being the little beach town that I visited while vacationing in Laguna Beach, California a few years ago. I had such a blast on that vacation. I went all by myself, but I needed the time to heal from what had been a very hard year. I won't go into the details, but you can take my word for it. I was looking to get just about as far away as I could for a retreat from work and responsibility, even if only for a few days.
For that trip, I booked a quaint B&B in Laguna that overlooked Pacific Coast Highway 1 and the Pacific Ocean. I scheduled my first hot stone massage while I was there, and I traveled up and down the coastal highway in my rental every day while I was there. I ventured as far south as Dana Point and as far north as Newport Beach.
Soooo, when I saw that this conference was scheduled in Newport Beach, CA, I had visions of beaches and ocean and a chance to relive a favorite vacation.
I didn't ask enough of the right questions. That's on me.
The hotel where the conference was held was in downtown Newport Beach about a mile from the John Wayne Airport in Santa Ana, California. We were smack in the center of a bustling city...and there was no beach to be seen.
Realizing my error, I asked the desk clerk on the first day I was there how far the beach was.
Happily, it was only about 20 minutes away by cab or Uber, and the recommendation was to take Uber or Lyft for a more economical ride.
I decided that I would find some time in the schedule where I could sneak away. I couldn't bear to be so close and not at least SEE the Pacific Ocean.
I finally made my escape on Friday afternoon, the last day of the conference.
I checked out possible places to go, and I settled on a little place called Ruby's Shake Shack. It was near the water, and it had the best shakes around (or so the advertisement said).
I booked my Uber ride for $16 and change. Given that this was my first experience with Uber, it was an adventure of sorts, but my driver Sergio was great, and we chatted it up for the 20-minute ride to Ruby's.
Sergio was from LA and not that familiar with the area, so he was as pleasantly surprised as I was as he dropped me off in the parking lot of Ruby's.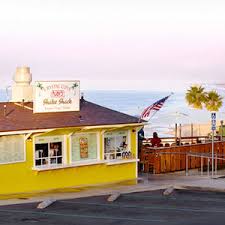 Ruby's Shake Shack has its menu posted on the wall next to where you order, and your food is brought to you based on the number you are given when you place your order. I had already had lunch, so I just ordered a chocolate milkshake. The milkshake was $5.99 plus tax which brought it to $6.49. When it was brought to me it had been topped with whipped cream and a cherry, and it was so thick I had to eat it with a spoon. It was definitely a treat.
Beyond the milkshake, however, was the REAL treat, and the REAL reason for my trip there.
With no indoor seating, everyone sits on the deck with a bird's eye view of the beach below. I was able to sit on the deck and look over the ocean and the beach at Crystal Cove. I found out it used to be called The Date Shack, and it is best known for its burgers and milkshakes.
Here is a slice of the view I had from my perch: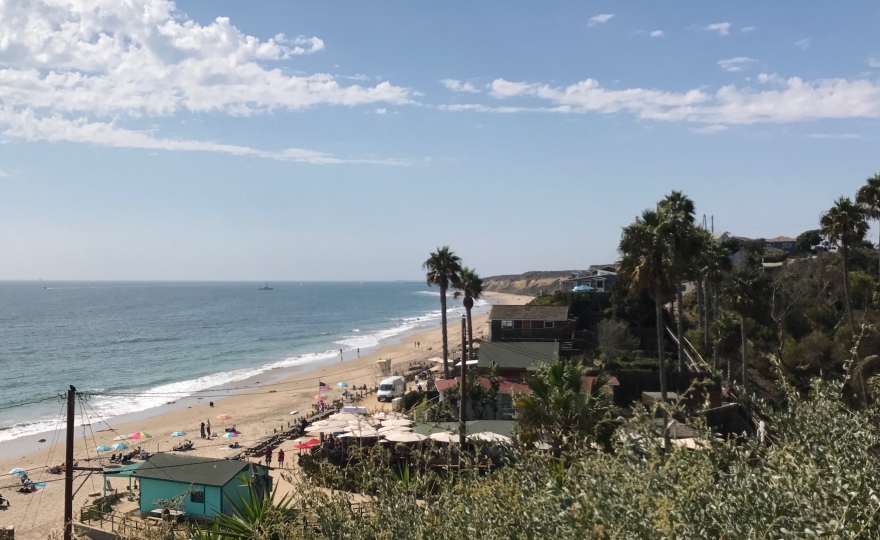 I was close enough to hear the waves wash gently ashore and I watched families enjoying the water although Sergio had told me on the ride there that the water was "cold." I didn't care about getting in the water, however. I didn't even care about being eye level with it. One of the things I love about the West Coast and the Pacific is that you can look out over the water from the many bluffs that are right there.
I sat and people watched for a while. I closed my eyes and listened to the waves down below. I watched birds and ground squirrels (different from the squirrels we have on the East Coast) forage on the crumbs dropped by the hungry customers on the deck. I thoroughly enjoyed every tasty bite of my milkshake. And when I was ready, I called Uber for another ride.
This ride was more costly because it was now a busier time in the day. Instead of $16 and change it was now $36 and change...and between the tips I left for my respective drivers--the second driver was Rodrigo who was a new Uber driver and had only been on the job about a week--I paid $60 round trip plus the milkshake itself which is why I call it my $66 milkshake.
But here's the deal. It wasn't about the milkshake at all. It was about the experience of being so close to the Pacific Ocean again. It was about enjoying just a little feeling of being a tourist instead of a conference attendee--it was about providing a break in the routine--and it was about treating myself to something I wanted...not something I "needed" or "deserved" or had "worked for," but just something I just wanted to do for myself.
When was the last time you had your equivalent of a $66 milkshake? When was the last occasion when you did something just for the fun of it. It had no purpose other than to have the experience of it?
If it has been a while, I recommend that you do something about that. Life is short. You need to treat yourself every once in a while.
I am glad I took that opportunity for myself. Not only was it a yummy milkshake, it was also a yummy view.
I hope I get to go back again some day but if I don't, I am glad I had this experience. I highly recommend it.
Until next time.