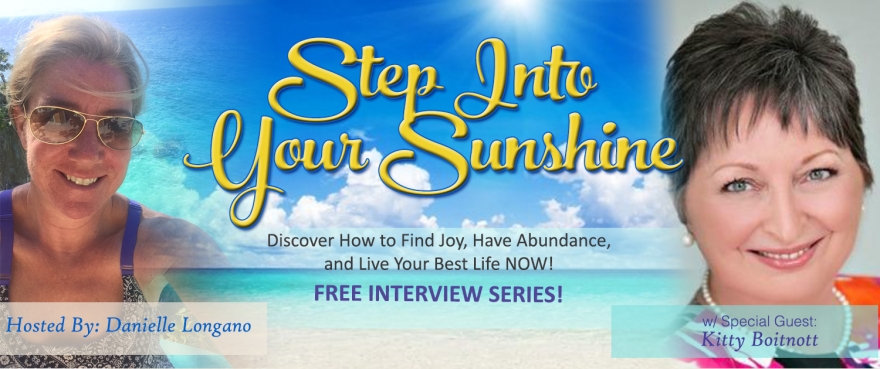 You are Invited to the "Step Into Your Sunshine" Summit
Kitty Boitnott, Ph.D., NBCT, RScP
Career Transition & Job Search Coach
When I was younger, there were times when I felt I wanted to make a change in my life. I remember struggling with feelings of self-worth and confidence. I wanted to feel more at ease in unfamiliar situations. I longed to feel more comfortable in my own skin and to find my own voice. It looked so easy for others, but I didn't know the secret sauce. I didn't realize that a lot of other people were feeling the same way! They were just doing the best they could. I thought I was the only one who doubted myself and wondered what I should do with my life.
Thankfully, I not only grew into feeling more worthy and confident with time and experience, but I now work helping others worthy of their desires. I urge them to feel confident that they can live the life they want because I know they can even if they don't see it yet. By working as a Career Coach and as a Stress Management Coach as well as being a licensed minister, I get to work with people on how to build their own sense of worth and confidence. I help them see that no matter what is going on in their lives that may be stressful and feels overwhelming, the current situation is only temporary. Not only that, but it is possible to address their feelings in a variety of healthy ways.
Because of my interest in living my best life and helping others do the same, I was thrilled when Danielle Longano told me she was hosting an interview series all around the topic of living your best life now. This Summit was born out of her own quest to help others find joy and create abundance.
This interview series is for you if you want to make a positive change in your life, whether it is getting in shape, wanting a healthy lifestyle, finding your true love, being financially independent, spending quality time with the ones you love, traveling to exotic places…but you feel unclear about how to take the first step to actual change.
This event is called: Sunshine Summit: Step Into Your Sunshine. Discover how to find Joy, Have Abundance and Live Your Best Life NOW!
Seize the opportunity to listen to this FREE interview series. CLICK HERE.
During this summit, 21 awesome coaches & mentors, (including me) in fields ranging from nutrition and fitness trainers to financial coaches, career and retirement mentors and relationship gurus, have joined forces to share their stories of how taking action empowered them to change their lives for the better. Together, we want to support you in feeling inspired and motivated to STEP INTO YOUR SUNSHINE so you can live your best life now.
I have a complimentary ticket for you so that you can attend. You can register using this FREE LINK.
And just so you know, you will be able to listen to each of the interviews for 72 hours after the interview is released (1 per day) (May 1st – May 21st) at your leisure.
Here's what is going to be covered in the Audio Interviews:
Decide which areas of your life you should start working on first.
How to make small changes today that will transform your life.
Hear how 21 experts in a variety of fields recommend getting started.
How to feel joy and create abundance in your life.
Register here with your complimentary invitation to listen in. CLICK HERE.
These interviews are real, SHORT and to the point conversations with experienced coaches and mentors (because I know how busy you are)!
This is a great opportunity for anyone in my community who wants to continue growing and living their best life now but doesn't know what the next step it is they need to take. This is something I wish I had when I was struggling years ago, which is why I'm so happy Danielle is hosting this summit and that I get to share it with you.
I have signed up, and I hope you will, too. This is a great opportunity to get some good, FREE advice on a variety of topics that you may find pertinent to you no matter where you are in YOUR life.
P.S. When you register, Danielle is going to provide a Self-Care and a Readiness for Change Assessment for you to fill out before the interview series to help determine which areas of life you might be ready to change today.
Regardless of whether you sign up or not, I hope you will enjoy the freebies that I am attaching to this message for you. They are Infographics that I created this week as part of a marketing challenge I took part in. One is on stress management and the other is on career change. Please feel free to save both, one or neither depending on your current need and level of need. I just wanted to provide them for you. Enjoy.
Document: 7-ways-to-lessen-your-stress-1-.png
Document: 6-ideas-for-you-if-you-want-to-change-your-career.png