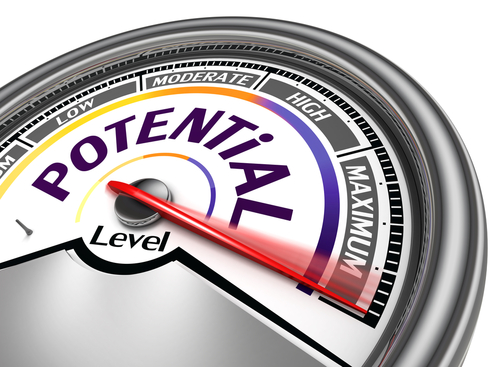 You Have Unlimited Potential
Rev. Dr. Kitty Boitnott, NBCT, RScP
Career Transition & Job Search Coach / Your Career "Makeover" Coach
For today's video message, click here.
From Louise Hay's Wisdom Cards collection, I drew the following card for inspiration for today's message. The front of the card reads: "I have unlimited potential." On the back of the card is this message: "Loving myself and thinking joyful, happy thoughts is the quickest way to create a wonderful life."
Each of us has unlimited potential whether we are in tune with that fact or not. Each of us can create the life we want and deserve to have, but more often than not, instead of believing that we default to the "garbage" messages we picked up along the way from childhood to adulthood. "You can never do that." "Who do you think you are?" "Money doesn't grow on trees." "Be satisfied with less than what you think you deserve...you'll avoid disappointment that way."
If none of those messages sound familiar to you, good for you! It means you had a childhood that was filled with encouragement and empowerment. You should be living a life full of everything you ever wanted because you haven't had to undo the damaging messages of your youth.
Most of us grew up, however, with some form of limiting belief system that was conveyed to us through parental cautioning or church teaching or some other form of indoctrination. It pretty much comes with the territory.
New breakthroughs in the science of metaphysics teach us, however, that we can break free of the limiting thoughts that we learned before we knew better, and we can instead decide to embrace our full power. We can develop new ways of thinking about our life experiences. When we adopt and fully embrace the notion that we have unlimited potential, we can decide to take control of our lives and create the fabulous lives we deserve to live.
So, what limiting thoughts are holding you back? Have you paid attention to them? Is it time to pay attention and ferret them out? They are only sabotaging your success, so it is time to sweep the all away. Adopt a more positive mindset and get started right now. Embrace your unlimited potential and go for whatever it is you want...and watch out the Universe unfolds before you allowing you to achieve the life of your dreams in ways you never even imagined.
Until next time.
Are you ready for a job change or a change in career? If so, or if you know someone who is, share this information with them: "10 Consideration Every Job Seeker to Career Changer Should Think About."
Click here to download your free guide.