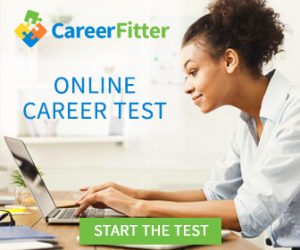 The questions feel very much like the Myers-Briggs questions we are all familiar with EXCEPT THAT the questions all pertain to how you would respond to work situations.
You will receive a report offering insights into your work preferences and style in the free report.
You also have the option of upgrading to a paid report for $19.95 (a $39.95 value).
Full disclaimer. I am an affiliate for this offer which means for every purchase of the paid report, I will receive a small stipend.
Features of the paid report include a 10-page summary of the following items:
a career personality chart
primary characteristics
work analysis
potential weaknesses
best personality details
top business points
communication method
ideal business environment
team-building approach
management practice
and best career choices
To take the free career test, click on this link: https://www.careerfitter.com/free_test/careerbuilder?afid=1162
If you have questions, contact Kitty at kittyboitnott@gmail.com